Strategos Group offers expertise in deploying market intelligence to advance communications, business development, and government advocacy campaigns. Their work spans all 50 states and impacts the education, healthcare, and technology sectors.
Driving new business depends on Strategos' ability to track myriad of proposals each year. To accurately forecast revenue, they needed to understand the length of time a deal stays in a stage and predict its impact on winning a proposal.

Unlimited built a probability forecasting solution in HubSpot using automated tooling and custom reporting to automatically calculate the probability that a proposal will close based on how long it remains in a stage.
"Unlimited was able to help us transform our entire CRM environment by training us on best practices. We now have data-driven revenue reporting that allows us to measure what matters."

– Nicholas Mortellaro, Director of Strategy & Market Advancement at Strategos Group
Strategos Group, a national consulting firm based in Florida, specializes in governmental advocacy, public opinion architecture, strategic business advisory, and state-level partnerships with education agencies. Like the strategoi of Ancient Greece, the Strategos Group are trusted advisors who serve the community through humility and principled leadership.
Industry: Business Consulting and Services
Company Size: 11-50 employees
Location: Tampa, Florida
Software: Marketing, Reporting
Sales Forecasts Lack Detailed Input Data
Because Strategos drives business via complex RFP processes, they require a more precise means of forecasting revenue. To do that, they wanted to understand the impact of the time gap between sending a proposal to a client and winning or losing the project.
When Cookie-Cutter Won't Cut It
Let's suppose you have ten RFP deals, each worth $100,000. That's a total of one million dollars. If you estimate a 50% chance of closing each deal, you expect to make half a million dollars. Here's where things get a little more complicated. If five deals are stuck in the same stage, this could be a sign that they're less likely to close than you initially thought.

However, in your original forecast, you still counted them at the full 50% chance. Doing so, you might overestimate your expected sales because deals that stay in one stage for too long often have a lower possibility of closing.
[Strategos] needed a method of factoring time decay in their sales model. Lowering the probability for deals that lingered in the sales pipeline would make their revenue forecasts more realistic.
This was Strategos' challenge. They needed a method of factoring time decay in their sales model. Lowering the probability for deals that lingered in the sales pipeline would make their revenue forecasts more realistic.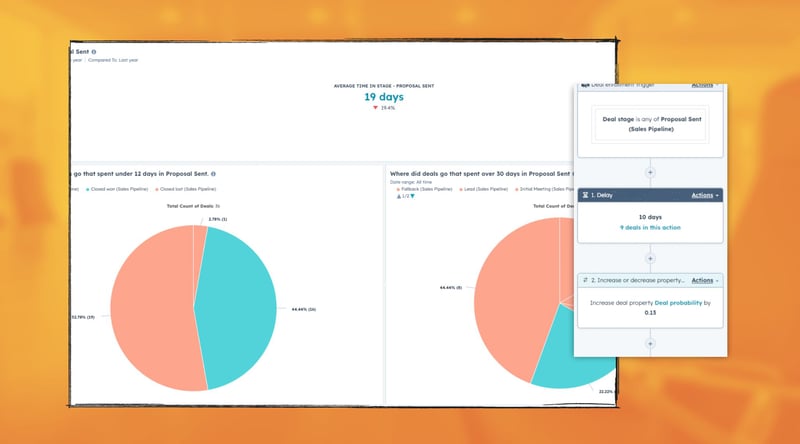 Sample HubSpot custom reports & workflow logic
Inventive Custom HubSpot Report Forecasts Based on Probability
Led by Will Lench, Unlimited's Director of Technical Services, the Client Services team devised an inventive Probability Forecast Report for Strategos. The solution comprised a custom set of automated workflows, predictive variables, and custom reports that automatically calculate the probability that a proposal will close based on how long it remains in a stage.
Making The Numbers Work
The forecasting concept is based on the principle of 'probability of close,' a subjective estimate made by a salesperson regarding the likelihood that a particular sales opportunity will close within a specified time period.
In the case of Strategos, their 'probability of close' is derived from actual deal data within HubSpot. Our team initially created a bar chart to investigate the impact of time on proposals and their probability of closing. The bar chart compared deals that remained in the various stages for 12 days or less and those proposals that were present for over 30 days.
However, since the number of deals varied at each stage, the bar chart wasn't proportional. To resolve this, Unlimited revised its approach, creating a pie chart displaying each segment's percentage representation rather than the total count. The data for forecasting is sourced from a series of automated workflows and reports within their CRM data. Then, custom tooling calculates the probability of a proposal closing based on the length of time it stays in a stage.
The Timing Game: Predicting Future Revenue With Custom Reporting
By building a custom solution, we helped Strategos uncover that deals between days one and ten have a 43% chance of success. Surprisingly to everyone, the team discovered that the success rate for deals between days ten to 30 was notably higher at 56%!
Making Revenue Reporting More Accurate
This suggests that deals closing quickly are less likely to succeed than those closing between ten and 30 days. One explanation could be that substantial deals require thorough examination, which might not happen if closed in under ten days. However, after 30 days, the success-to-close rate drops to 16%.
For instance, a $100,000 deal closed before 30 days would contribute $56,000 to the company (56% of $100,000). If the same deal closes after 30 days, its value drops to $16,000 (16% of $100,000).
Rather than relying on the deal stage percentage, Strategos' sales forecasting reflects these 'probabilities of close' percentages. A deal's value increases after ten days and decreases after 30 days.
Deals or proposals lingering for over 30 days are now only valued at 16% and contribute significantly less to the forecast.


Accelerating The Revenue Forecasting Revolution
As a result, Strategos' forecasting accuracy has markedly improved, and they can quickly see what percentage of deals are won and lost and how the won/lost percentage changes over time.
How Improved Accuracy Influences Strategos' Decision-Making
This new method provides Strategos leaders and executives with the necessary data to make informed forecasts over several quarters. With more accurate revenue forecast data, they can make important decisions such as hiring or investments rather than relying on the less accurate deal stage percentage, which treats every deal equally.
Take the guesswork out of your revenue growth with custom HubSpot solutions. Speak with a specialist from the Unlimited team here.