If you want to fully maximize the benefits of content marketing and search engine optimization on HubSpot, it is absolutely essential to tap into the potential of the platform's marketing tools. This necessitates a thorough grasp of how to effectively utilize these tools, as they have a significant impact on the success of your marketing efforts.
According to the G2 review for HubSpot Marketing Hub:
"With Marketing Hub, all your marketing tools and data are on one easy-to-use, powerful platform. You'll save valuable time and get all the context you need to provide a personalized experience that attracts and converts the right customers at scale. Plus, marketers can keep data at the center of everything they do because Marketing Hub is built as part of the HubSpot CRM platform. When using the full CRM platform, marketers can achieve unparalleled alignment with sales to prove ROI and validate investments."
Our goal today is to explore how you can leverage the SEO tool to analyze performance metrics, find technical issues holding your content back, and boost your traffic through built-in tools like topic clusters.

With a few practical steps, you'll be able to get the most out of HubSpot's robust marketing capabilities.
Let's dive in and uncover the strategies that will elevate your organic traffic.
First, Get Your Systems Talking
Connecting your website to HubSpot is mandatory for maximizing your online marketing efforts. By connecting your website with HubSpot, you flip the switch on a comprehensive platform that consolidates all your marketing tools and data in one place. Not only do you save time, but you also unlock valuable context to deliver personalized digital marketing experiences that attract and convert the right customers at scale.
Now, that's the marketing spiel 👆. Here's the practical stuff...

If you're going to use the HubSpot SEO features, HubSpot is going to need access to your content. Either because your website is running on HubSpot CMS or because you've connected your website and domain. According to HubSpot's Knowledge Base article, to connect your domain, you need to do the following:
Connect a new domain
Login to HubSpot

In your HubSpot account, click the

settings icon

in the main navigation bar.

In the left sidebar menu, navigate to

Website

>

Domains & URLs

.

Click

Connect a domain

.

Select the type of domain you want to connect:

Primary:

the subdomain will be the default host for the selected content types in HubSpot.

Secondary:

the subdomain can host HubSpot content, but will not be set as the default for your content (

Marketing Hub

Professional

and

Enterprise

,

CMS Hub

Professional

and

Enterprise

only). To connect a secondary domain, a primary domain must be connected first.

Redirect:

this subdomain can't be used to host content, but will automatically redirect to another domain connected to HubSpot.

Email Sending:

the subdomain will add another layer of authentication to your HubSpot emails. Learn more about

how to connect an email sending domain

.
Getting Started With HubSpot SEO Tools
Once you've connected your domain and HubSpot notifies you that a connection is established, navigate to the Marketing Tools section and click on the Website - SEO feature.
From here, HubSpot SEO presents you three primary tabs; each designed to enhance or measure your website traffic in different ways: Recommendations, Analyze, and Topics.
Each tab offers valuable insights and functionalities that contribute to optimizing your SEO performance and driving targeted traffic to your website.
1. Recommendations
If your website is running on HubSpot CMS, recommendations is going to be your best friend. This is a powerful tool that reviews your website like a Google search crawler. It works by having HubSpot scan all your website pages and offer technical anc tactical recommendations on how to improve your traffic.

To scan your website, all you need to do is click on the orange button "Scan Now" and in a few minutes you will have several recommendations of improvement.
HubSpot filters your pages based on the following SEO categories. To improve your website, I recommend selecting each category individually to identify areas for enhancement:


On-Page SEO: Evaluate the effectiveness of your title tags and meta descriptions for search engines. Additionally, check the length of your content and aim to provide detailed information. Google tends to favor longer content, so including details can significantly improve your on-page SEO.


Mobile Experience: Assess whether your users are having a positive experience on mobile devices similar to that on desktops.


Crawling and Indexing: Confirm that the right pages are hidden from search engines if necessary. Additionally, check for broken links and ensure that your anchor text is descriptive enough for search engines to understand.


Security: Ensure that your website has a secure connection (HTTPS) to avoid any negative impact on your SEO performance.


Performance: Verify that your files and images are appropriately optimized to prevent your website from becoming slow.


Accessibility: This category focuses on characteristics that affect user accessibility, such as images, alt tags, and language attributes. Ensure that these elements are properly implemented to enhance accessibility.


User Experience: User experience encompasses all the above mentioned categories. Check for broken links, slow-loading images, and any other factors that might hinder a positive user experience. Ensuring a seamless and enjoyable experience for visitors is crucial for improving SEO.
Remember, focus on each category individually to identify specific areas for improvement. By addressing these aspects, you can enhance your website's SEO performance and provide a better experience for both users and search engines.

After selecting "View Pages with Errors" in HubSpot, you'll receive detailed suggestions on how to improve. HubSpot will also list the pages that share the same error.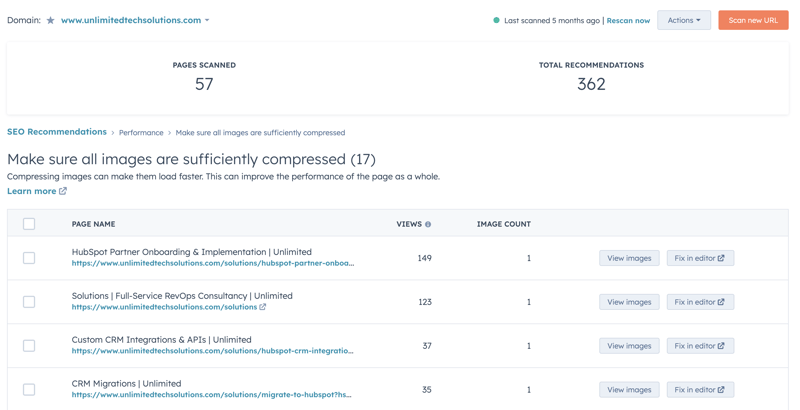 In the given instance, the problem lies with the presence of oversized images. By selecting "View images," you will be able to view the exact images or files that HubSpot has identified as potential concerns. This functionality assists you in pinpointing and resolving the issue right inside the portal.
Once you've reviewed and implemented the recommendations, you can rescan your pages to ensure you didn't miss anything. t's advisable to perform this monthly to avoid accumulating a large number of recommendations that need fixing all at once.
2. Analyze
As the name suggests, the Analyze tab allows you to analyze your website pages' performance. At the top, you'll find an overview of all the pages, with the option to filter the date range.
Scrolling down, you'll find reports showing views, impressions, clicks, average position, and click-through rate. These reports provide a high-level overview of your website's performance.
At the bottom, there is a detailed report on each page's performance. This report helps you identify your best-performing content and enables you to shape your content strategy based on the pages that receive the most impressions.
Also, under the "Reports" section in the analytics tools, you'll find "Traffic Analytics." Selecting "Pages" from there allows you to see which pages are performing the best. This feature provides valuable insights into the performance of your website pages.
3. Topics
The section I'm referring to may seem complex, but it's actually straightforward, even if you're new to HubSpot. If you've used SEO tools like SemRush or Ahrefs before, you'll grasp HubSpot's approach easily.
To begin, click on the orange "Add topic" button in the top right corner. Let's say you're a car insurance company, and you want to assess the performance of your main keywords, such as "car insurance." HubSpot will suggests relevant topics based on your published content, streamlining the process.
Once you select your main keywords, or topic clusters, you will attach a pillar page that corresponds to that keyword.
According to HubSpot:
A pillar page serves as the foundation for a topic cluster. It comprehensively covers all aspects of a particular topic within a single page, while allowing for more detailed coverage in cluster blog posts that link back to the pillar page.
A pillar page is an extensive piece of content that provides in-depth information about specific topics. It is typically longer than a regular blog post. In the future, blog posts will expand on the sub-topics mentioned in the pillar page.

Once you have chosen your main topic and created a pillar page, you can explore related keywords and their corresponding blog posts. HubSpot enables you to create a content tree, with the pillar page and main topic at the center, and all associated pages and subtopics branching out. This organizational structure helps you streamline your content strategy and prioritize keywords that perform well.
HubSpot's content performance tab enables you to monitor the performance of your topic clusters and subtopics.
Furthermore, you can verify whether the subtopic content is linked to the pillar page. If not, it's recommended to include a link, as it can enhance your SEO performance and drive organic traffic to your website.
Wanna Talk HubSpot?
Fully leveraging HubSpot's marketing tools is essential if you want to maximize your content marketing and search engine optimization efforts.
By connecting your website to HubSpot, you gain access to a comprehensive platform that consolidates all your marketing tools and data, saving you time and providing valuable context for personalized digital marketing experiences.

The built-in SEO tool offers recommendations to improve your website's on-page SEO, mobile experience, crawling and indexing, security, performance, accessibility, and user experience.

Additionally, using topic clusters allows you to optimize your content strategy and prioritize keywords that perform well.
With HubSpot's marketing tools, you can continuously improve your SEO performance and drive organic traffic to your website. If you'd like to get more from your HubSpot software, start a conversation. Our team of HubSpot specialists are experienced in helping ambitious revenue teams push HubSpot to the innovative edge.