For many companies, migrating from Salesforce to HubSpot is a worthy goal. But it's not without its challenges. Recently the Unlimited team helped migrate a large industrial Electric Vehicle manufacturer between these two CRM systems without any data loss and zero downtime.
Read on to learn how we did it.
Caught Between Two Worlds
Transitioning America's industrial vehicle fleet to sustainable energy is a daunting task — one our industrial client is tackling head-on. As one of America's fastest-growing industrial EV manufacturers, they needed new technology and processes to match their unprecedented growth.
A long-time Salesforce customer, the team felt familiar with Salesforce but drawn to the advanced simplicity HubSpot offered. From the integrated HubSpot Software & Technology platform to the easy-to-use HubSpot UI:
HubSpot CRM to manage customer base records, contact record lists, standard objects, and custom properties
HubSpot Marketing Hub to grow organic traffic, manage social media, and send email marketing campaigns
HubSpot Sales Hub to manage sales reps and hierarchical teams, email templates, and deal cycles
HubSpot Service Hub to manage business processes, chat volume, and customer service records
HubSpot Operations Hub to build and manage custom integrations, object relationships and custom object records, and field mappings


When we met, the team was already deep into the CRM evaluation process. They were looking for a CRM platform that gave their sales team, marketing team, and service teams easier ways to control data and security while providing a more holistic view of the customer journey. HubSpot's Marketing Hub, Sales Hub, Service Hub, and Operational Hub offered their team an excellent CRM solution.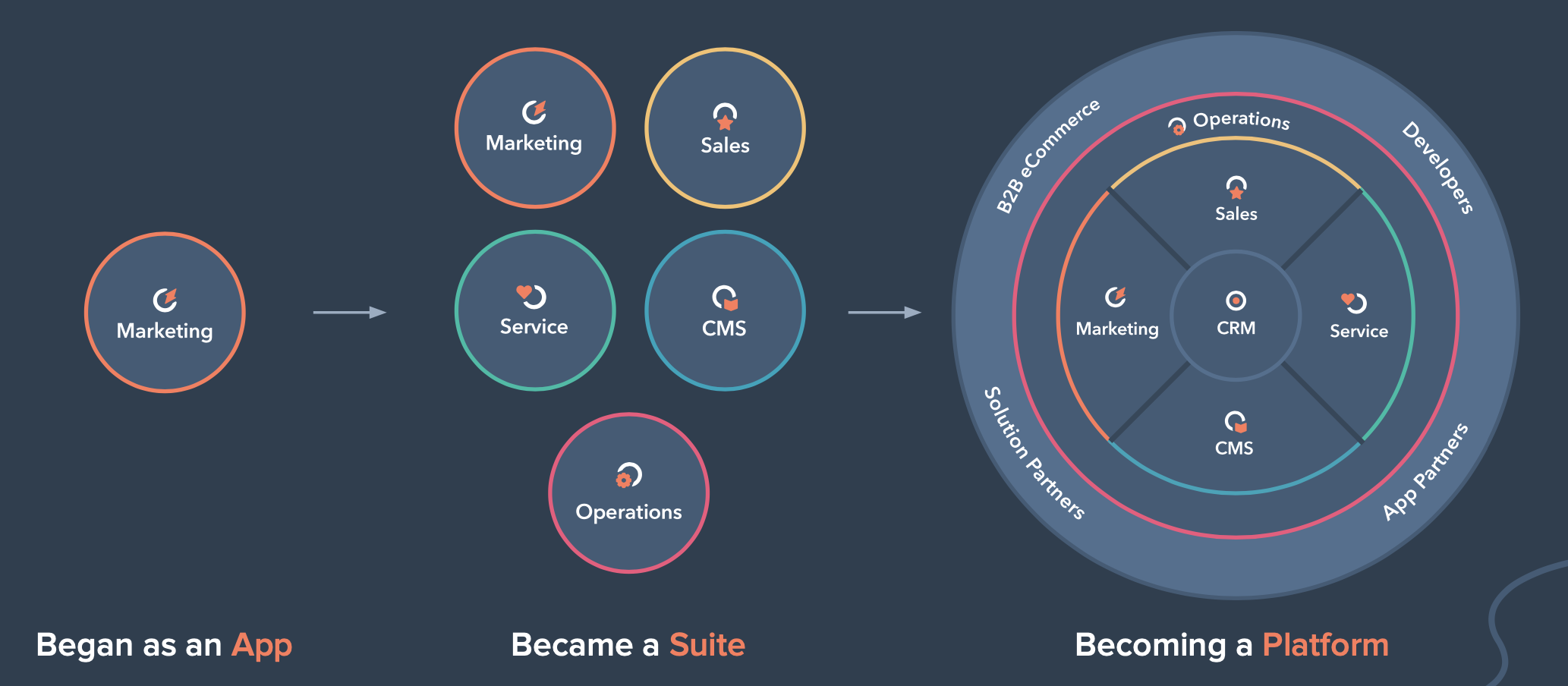 Courtesy of HubSpot
As they prepared to move, key team members explored HubSpot training but they were running into complexity issues and needed help to customize the platform to their specific needs. Consequently, the team felt caught between two systems and heavily reliant on external spreadsheets to keep track of their data.
"The team felt caught between two systems and heavily reliant on external spreadsheets to keep track of their data."
During the procurement process, a HubSpot rep referred them to Unlimited's HubSpot services. Within 24 hours of the first meeting, the team was satisfied of our technical and operational knowledge and chose us to manage their complex Salesforce-to-HubSpot migration and onboarding process.

The more we learned more about the requirements for their world-class operations, the more we were convinced that our team possessed the technical and situational expertise to achieve a successful Salesforce-to-HubSpot-migration.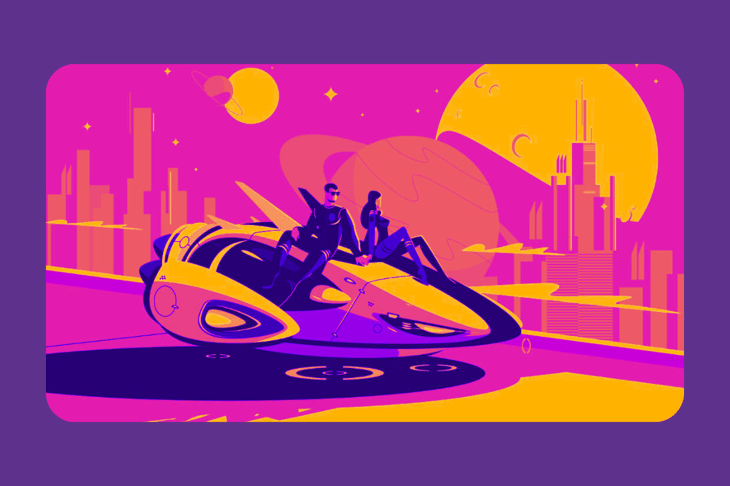 Fast Tracking the Objectives
From the beginning of our partnership, our client established a set of objectives for transitioning from Salesforce to HubSpot:
Primary Objectives:
Safely transition from Salesforce to HubSpot: There was no room for downtime. Our migration process needed to guarantee business continuity and a seamless transition process to avoid missing data and idle work.
Data architecture: Our client needed a standard way to manage customer data without duplicating it. With HubSpot's custom objects and integrations, they stand up their processes.
Secure Access: They wanted to ensure everyone had access to accurate and consistent information, with security permissions in place. This meant treating and training each team and impact area differently — service, sales, marketing, admin, C-suite.
Secondary Objectives:
CPQ Integration: Maintaining a consistent quote flow was essential to their sales organization. We needed to build a custom integration with their CPQ system for quotes and vehicle configurations.
Integrating Epicor: We needed to build a custom integration that ensured seamless communication and data exchange between HubSpot and Epicor.
Although phase one did not consist of these goals, they remained essential to ensure the long-term success of the transition. Due to a truncated 8-week transition period, our team acted swiftly to bring these additional goals to the fore.
Addressing The Pain Points
During the discovery phase, we identified a list of pain points and limitations with the client's current tech stack. But, with our know-how and their input, we were able to devise solid solutions that removed their barriers.
Here are some of them:
Double and Triple Data Entry
Previously, internal teams had to wait until the end of the process to include important order and customer data. To address this, we built a custom object called "vehicles" in HubSpot and developed a custom process where sales and customer success reps could start collecting vital details before they usually would have. We also included a receptacle in their sales pipeline, enabling the sales team to input information as they gathered it. Now, as a result, by the end of the sales process, nearly 90% of the necessary order data is already collected, completely eliminating double or triple data entry.
Running Multiple CRMs
To streamline and centralize the sales administration process, we helped transition the sales admin team from Monday.com boards to a convenient HubSpot conversations inbox. This new centralized inbox allowed them to take advantage of helpful HubSpot features such as SLAs. By consolidating all the sales admin data in one place, we eliminated the need for multiple CRMs.
Decentralized Sales Processes
To centralize their sales processes, we used our discovery process to align the sales team with the same consistent and accurate information across all departments. As a result, their sales teams instantly became more synergistic and productive.
Overcoming Limitations
During our onboarding process, we helped put systems in place to eliminate scope creep by challenging inefficient requirements, developing tailored solutions, and addressing the team's needs. One of these was the ability to view "vehicles" object's VIN number when submitting a service ticket to auto-populate the remaining fields.
Designing A Tidy Solution
Although we found a limited way to solve the VIN lookup issue, we encouraged the team to consider HubSpot Operations Hub Pro as a more elegant way. In just a matter of days, after a short solutions architecture discovery session, we had the new Operations Hub in place, and we got to work building the automation.
As JavaScript couldn't be used on the customer portal, we custom-developed a branded landing page that looks identical. This allowed us to use JavaScript to perform a VLOOKUP on VIN numbers and auto-complete the fields. This elegant solution ensured that when the service ticket arrived to the service teams, it would come in already matched to the VIN, the correct deal cycle, and the end user. Brilliant!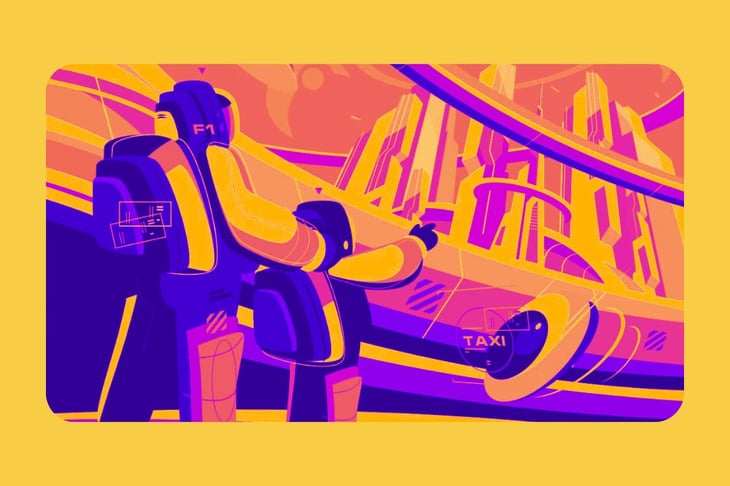 The Outcome: A Clean HubSpot Migration
While it is still early to assess the full impact of our support, our client is already full-steam ahead on their growth plans with the help of HubSpot's powerful tools.
One of the most significant achievements has been the successful transition of all teams to the new system. This was our main concern: ensuring that sales teams were engaging with and adapting to the platform. Not only have they adapted to it, team members love the intuitive interface and easy-to-use sales tools.
Our main concern was ensuring that sales teams were engaging with and adapting to the platform. [...] They love the intuitive interface and easy-to-use sales tools.
Thanks to our support and intuitive solutions, we gave our client a solid foundation to propel business operations using the entire HubSpot platform. This powerful, streamlined platform gives everyone in the organization the tools they need to grow the business.
We are confident they are now ready to progress to the next phase, which involves a deeper integration of their core tools with HubSpot.
Key Results Summary
We concluded a safe and efficient transition from Salesforce to HubSpot
We helped establish a cleaner data architecture with custom objects
We streamlined their process to enable sustainable growth across the organization