A HubSpot CMS case study for a Diamond HubSpot partner. Get an inside peek into our website redesign process: from core messaging and wireframes, to initial designs, go-live and the final result!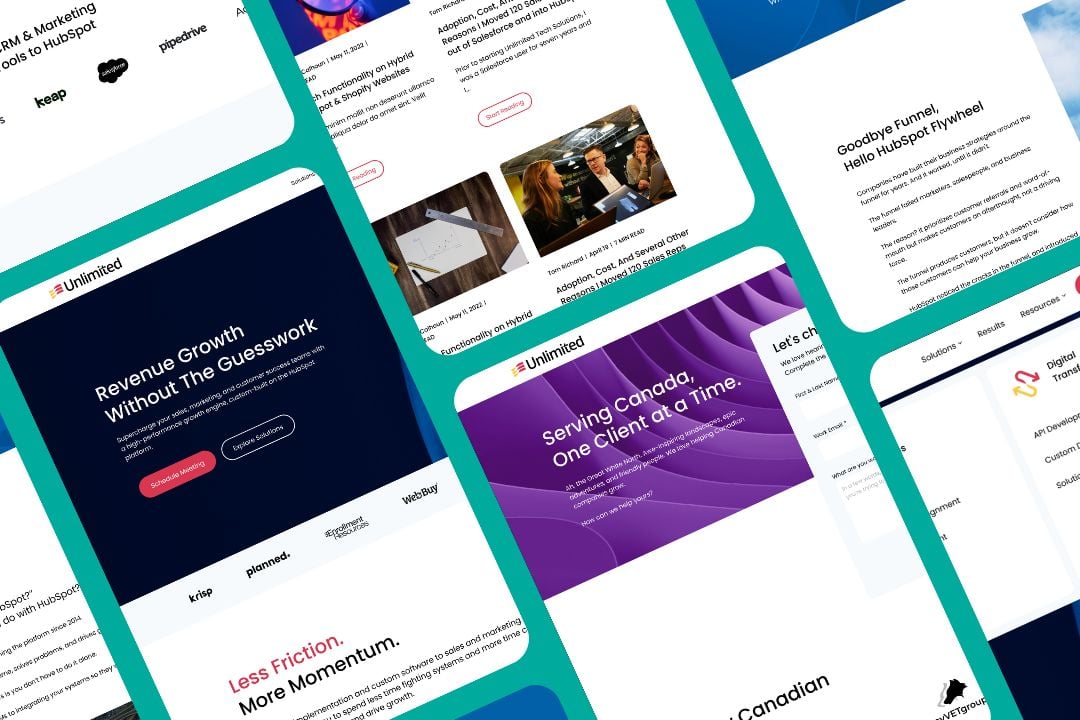 "One of my top priorities was to raise the Unlimited brand and show potential customers what's possible with HubSpot CMS. As a marketeer, however, I needed a canvas to not only market our business, but our approach to the market."

Kevin Mullins, Chief Revenue Officer for Unlimited
The Strategic Purpose
Unlimited needed a new website to match and support our work as a Certified HubSpot Partner. Our old website didn't properly convey our new brand positioning and didn't represent our rising reputation in the partner ecosystem.
Yet, our biggest challenge was establishing a meaningful connection with customers, understanding their requirements and demonstrating our solutions, services and partnerships.
Here were our key objectives for our website redesign project:
Modernize unlimitedtechsolutions.com to match our world-class solutions and rising reputation
Support Sales with strong messaging and strategic content
Educate new HubSpot customers and those considering HubSpot CMS
Clarify Unlimited's solutions and services

The Solution
After months of planning and strategizing, our team brought together all of the essential components for a successful website relaunch project. This involved different team members digging deep into SEO keyword analysis, competitive analysis, heat-mapping and quantitative research, messaging and content outlines, and overhauling a sitemap plan.
The end result? Read on.
The Project Story
Can You Outgrow A Website?
Unlimited Tech Solutions was founded in 2020 to help revenue teams scale with HubSpot. In less than two years, we hit Diamond status and became one of HubSpot's rapidly growing RevOps partner agencies. However, as our company grew, so did the need to revamp our own brand and marketing stack.
Until recently, our website was a poor reflection of our business. It was a starter site for a startup business—functional and utilitarian but definitely not delivering a 5-star customer experience.
It was just a standard B2B website to increase traffic and showcase our HubSpot services. (Nothing wrong with that!) It wasn't special, but our basic, bare-bones site (no advanced features or user interaction) got the job done.
But the HubSpot marketplace shifted and our brand began to mature.
Over time, it became clear that Unlimited desperately needed something that reflected our long-term commitment to HubSpot and advanced RevOps solutions.
Taking Our Own Medicine
In the fall of 2022, Kevin Mullins, our Chief Revenue Officer, began the process of mapping a marketing solution that would meet Unlimited's needs. Number one on the list was an easy-to-use website platform, deeply integrated with HubSpot CRM and Marketing Hub.
"As a HubSpot partner, one of my top priorities was to raise the Unlimited brand and show potential customers what's possible with HubSpot CMS. As a marketer, however, I needed a canvas, not only for our business, but our approach to the market. Like most marketing leaders, speed is everything. I don't have the bandwidth to dig into code or worry about updating broken plugins every day,"

Kevin Mullins, Chief Revenue Officer
Telling the Unlimited Story
Our original Unlimited website never had a clear purpose or visual language. At the time we were in rapid scale-up and needed to get something, anything, live. Over time, the divide between our RevOps service offerings and our bare-bones website just became too wide. It confused our customer base, affected customer satisfaction, and made life for our sales teams very difficult!
Plus, as a HubSpot partner focused on high-performance websites on the HubSpot CMS, our old website was a poor representation of the CMS Hub experience. As for revenue targets and sales, it was mission-critical that our public-facing message accurately reflect our business. That critical message was nowhere to be found.
We gathered our senior leadership to discuss what we were selling and who we were selling to. After defining our category, narrative, and brand voice, we got to work writing and wire-framing.
Didi Apostolova, a remarkable content writer and lawyer with years of conversion copy experience, overhauled our website content. She transformed the original script with a more up-to-date narrative and customer focus that articulated our value and captivated visitors' attention. Her masterful narrative helped elevate the quality and tone of our website across 40+ pages!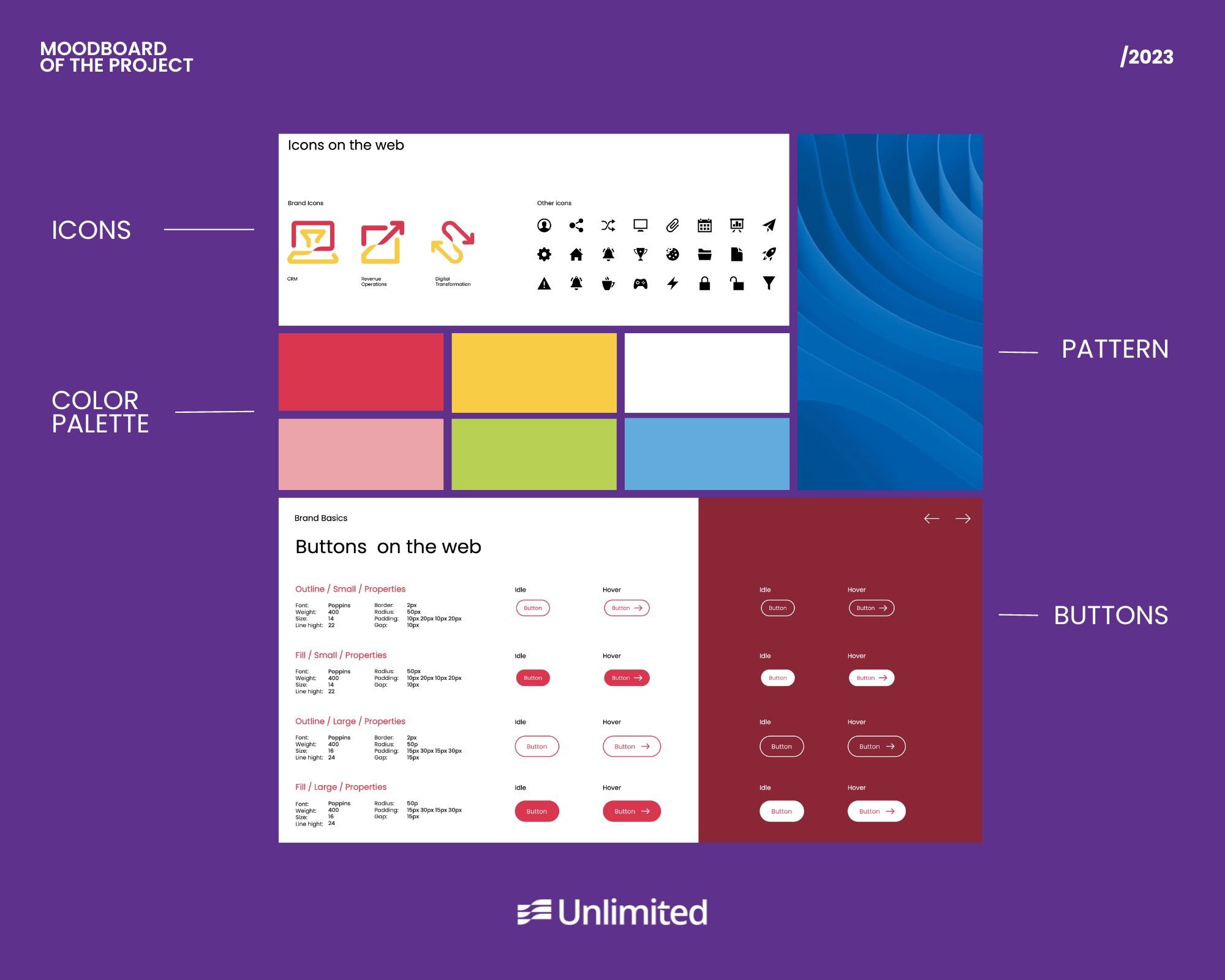 Designing For Success
With the copy and wireframes underway, next we got to work on design.
Initially, our team convened to determine the exact design specifications. That's when we realized that the Unlimited brand needed a facelift! After updating the logo design and color palette, we carried the design ethos into the visual language and the user interface. No stone was left unturned. We revamped everything from the header to the site map to achieve the desired result.
We allocated a purpose and scope to each page set; applying Didi's unique copy and wireframe structure to each page. The development scope was comprehensive, covering features for the editing experience, dynamic content, and how sections should be populated (automatically or by hand).
Ylli Tahiraj, the senior User Interface designer, used Figma to generate mock-up designs. Our senior leadership team was able to comment directly on the page designs and Ylli made the edits in near real-time. This improved communication and alignment within the team.
Relaunching A New Website The Right Way
Tevan Wilfred, our senior front-end developer, led the website build. This stage took roughly six weeks. At the end of the six weeks, all the page reviews were carried out and the necessary changes were made to ensure a consistent, responsive design.
Tevan presented the new website build via HubSpot CMS staging site. This kept the new design out of the public eye while we reviewed the design internally in a secure environment.
From the beginning of design to the launch of the new Unlimited website, the entire process took four months, not including branding or narrative projects. We created a spreadsheet to receive feedback and monitor bugs.
Kevin, Corné, Ylli, and Tevan put their QA skills to the test, scouring 50+ pages, 40+ custom modules and multiple landing pages for bugs and issues.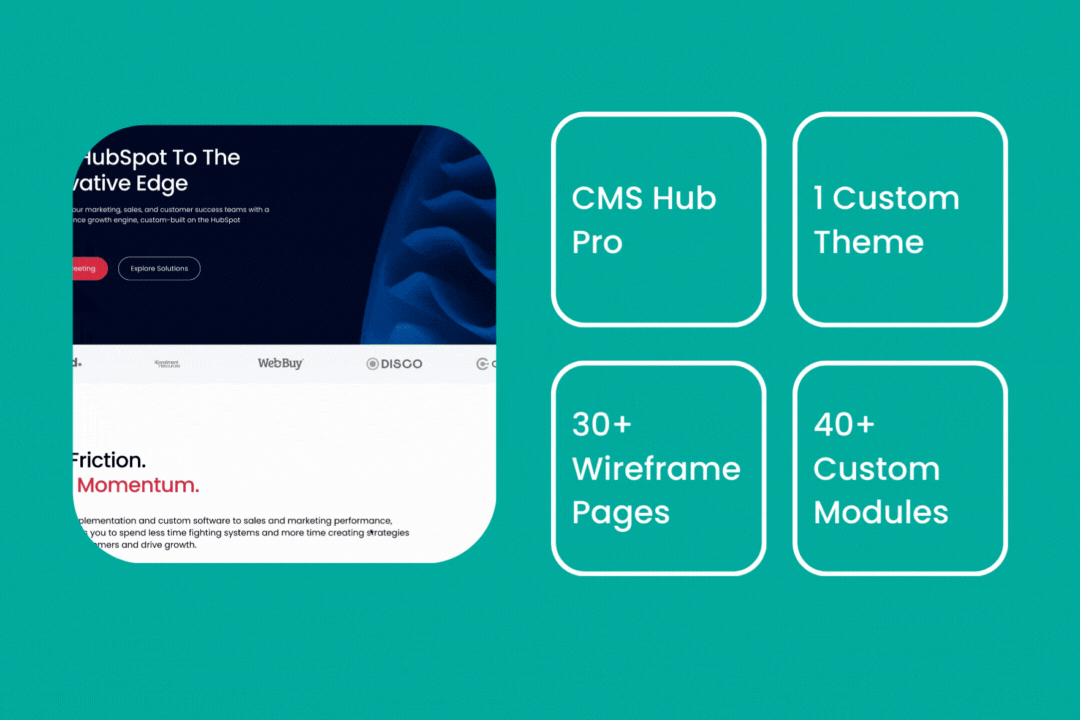 Maintaining Our New Website
HubSpot's CMS Hub gave our team a comprehensive range of features and tools to support the creation and management of dynamic websites. In this case study, we examined the the process of relaunching the Unlimited website with HubSpot's CMS Hub.
We began by assessing the existing website, which enabled us to identify areas for improvement. We then worked with our design and development teams to build and customize content, pages, and modules that fully integrate with HubSpot Marketing Hub. We build dozens of custom modules and used HubDB to save structured data, which we then used to create dynamic CMS pages.
After the revamp, our website is sleeker, swifter, and downright stunning! We've streamlined our update and maintenance processes – less variation, fewer errors! We can use the power of HubSpot custom reporting to track SEO performance and visitor analytics, troubleshoot page components, edit webpages and monitor the customer experience with HubSpot Service Hub.
Curious to know what HubSpot CMS can do for your company? Start the Conversation!