Properties are often overlooked, but they are actually one of the most valuable tools in the HubSpot platform. Recently, HubSpot launched some fantastic updates that breathed new life into properties; such as the customized properties view, object associations, and association labels.
The sad part is, many HubSpot admins don't realize the power or how they can use properties to their advantage. Until now. In this post, we take a closer look at Contact Properties in HubSpot and how benefit your business.
After discussing the biggest mistake revenue leaders make when switching to HubSpot, we now turn our attention to a powerful-yet-overlooked feature: contact properties.
With some of HubSpot's latest updates, contact properties have become even more dynamic and versatile, giving you access to powerful features and functionalities. From capturing crucial customer data and organizing and segmenting your contacts, to creating dynamic views that change based on lifecycle changes, properties have truly evolved into a powerhouse of growth and efficiency.
"From capturing crucial customer data and organizing and segmenting your contacts, to creating dynamic views that change based on lifecycle changes, properties have truly evolved into a powerhouse of growth and efficiency."
When you set up your HubSpot account, you have the opportunity to create the views and properties your company needs. Whether you use the native HubSpot properties or create custom properties for your customer data, these properties contain and display valuable information about your contacts and companies within your HubSpot account.
What Are Contact Properties?
Contact properties are like the vertebrae of your business. As individual components, they they may seem insignificant (other than capturing snippets of customer data). However, when you fuse them together, they become the backbone of your CRM, enabling you to gather and organize important information about your contacts and companies.
Properties act as fields where you can store all sorts of data, from basic details like name, email address, and phone number, to more specific information like job title and preferences. But here's the exciting part - HubSpot's latest updates have made contact properties even more powerful and flexible. Now, you have the freedom to create custom properties that go beyond the standard fields provided out of the box.
This means you can collect additional customer data that is unique to your business needs and tailor it to your specific requirements. For example, you can create a property called "Favorite Color" to learn more about your contacts' preferences, or a property called "Product Preference" to understand which products or services they prefer.
What Can You Do With Contact Properties?
Many HubSpot users only see individual data points on contact records. HubSpot CRM masters understand that these data points can be used to power all types of CRM changes and automation. For instance, with contact properties in HubSpot, you can:
Drive workflows and automations
Create active lists
Facilitate integrations
Enable seamless data sharing between departments
Eliminate data duplication and prevent data from becoming outdated due to changes in data storage
Enhance your ability to not only generate reports but also create them intuitively
Eliminate the need to sift through a lengthy list of 600 properties every time you want to generate a report
In short, properties are a big deal.


And not only are custom properties valuable, but the standard ones provided by HubSpot are also incredibly useful. These properties can be calculated or filled in by you, the user.
Let's take a look at one example: the "unworked contact" property at the contact level. This property is a game-changer once you understand its purpose. Essentially, it calculates whether a contact, who has been assigned a new contact owner, has had any sales activities within the last two weeks.
This information is crucial as it helps you determine if your salesperson is actively engaging with the assigned contacts. For example, you can:
Have productive performance discussions with staff based on data
Run reports to identify any potential leads that may be slipping through the cracks.
Automate actions where, if a high-value lead hasn't been worked on for two weeks, it gets automatically reassigned to another team member to ensure it doesn't go unnoticed.

This level of control and visibility can greatly impact your sales process and help prioritize leads effectively. According to Corné van Driel,

Just knowing [...] changes the way that you use the system entirely. And it's not well advertised. It's not something that you just know is there. It's something that you discover by accident, unless someone points it out, after being in the system for three or four years, where you could have had massive power if you just started by understanding how these properties work.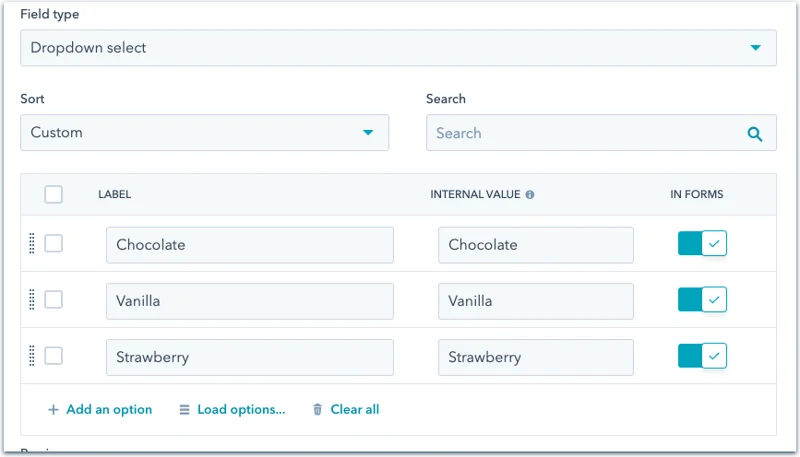 Taking Contact Properties To A New Level
With HubSpot's new capabilities across properties, custom properties, association labels, reports, and exports, the possibilities are endless. Integrate custom fields into your website's forms and gather valuable insights that will help you personalize your marketing strategies, improve customer experiences, and drive business growth. Contact properties truly give you the power to take your CRM game to the next level.
Segmentation and List Building
Contact properties enable you to effortlessly segment and categorize your contacts. By creating properties like "Purchased Product," you can easily generate lists of contacts who have bought specific products or services from your company. This segmentation allows you to tailor your marketing campaigns and messaging to specific groups of customers, ensuring a more personalized and targeted approach.
Personalization and Workflows
Custom properties in HubSpot can be leveraged to personalize your workflows. Let's say you want to send a gentle reminder email to customers who haven't made a purchase in the last 30 days. By creating a workflow that triggers an email based on the "Last Purchase Date" property, you can effectively stay connected with inactive customers and potentially boost sales.
Property Settings and Management
Managing contact properties in HubSpot is simple and user-friendly. You can access and edit them from the "Properties" view in your account. From there, you can create new properties, make changes to existing ones, and remove any properties that are no longer relevant to your business.
Use them to analyze customer behavior and refine your marketing strategies. By tracking customer metrics like lifetime value and purchase frequency, you can gain valuable insights into how your customers interact with your brand and make necessary adjustments.
Data Management and Exports
HubSpot makes it easy to manage your CRM property data and export your records. To do so, go to the Data Management section in HubSpot and click on Data Model. This will display all the object types in your organization and HubSpot instance. When you hover over a specific instance, you will see the connections it has with other objects and how the relationships work. This feature allows you to visualize and understand the data interrelationships in HubSpot much better than before.

Additionally, HubSpot has recently introduced a new feature called the Export All Properties button in the Properties Manager. This button allows you to export all the properties for all the objects in your HubSpot instance, including descriptions (if available).
If you have created custom properties, we recommend adding descriptions to them. The exported Excel sheet provides information on data types, whether it is a multi-select or dropdown field and the available values, whether it is a field you can maintain or a read-only field provided by HubSpot for audit purposes, such as create or modified date. This convenient export feature allows you to easily work with and understand the information, enabling you to make informed decisions about whether you need additional properties or if there are existing ones in HubSpot that can fulfill your requirements.
Associations and Association Labels
We can't discuss Properties without mentioning changes to associations and association labels in HubSpot. Recent changes allow you to now define and label the relationships between objects. For example, you can define the relationship between a contact and a company, such as being an outside consultant or the head of revenue. While these titles would typically be stored as properties on the contact, it becomes challenging when a database contact i.e., 'Kevin' has relationships with multiple companies.
In this case, the property alone doesn't provide enough information. However, by labeling and naming the relationships, you can clearly see that Kevin is the chief revenue officer at Unlimited, the primary marketing consultant at Company X, and responsible for the relationship with Company Y. These labels can be used in list building, reporting, and to a limited extent in workflows. Of course, with OpsHub Pro, you have even more options for custom-coded workflows.
Wrapping Up
For HubSpot admins, properties are an excellent tool for gaining a deeper understanding of your customers. By aligning your data with objects and properties, you can unlock the power to deliver highly personalized experiences for your customers. This level of insight allows you to tailor your marketing strategies, sales approaches, and customer interactions to meet the unique needs and preferences of each individual.
With a comprehensive understanding of your customers' behaviors, preferences, and purchase history, you can create targeted campaigns, personalized messaging, and customized workflows that resonate with your audience on a deeper level. By leveraging the power of contact properties, you can elevate your customer experience and drive business growth by delivering the right message to the right person at the right time.